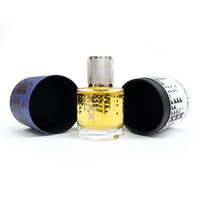 Just Right for a Tuesday Eau de Parfum
Thanks for signing up for restock notifications!
There was an error signing up for restock notifications. Please try again.
Sign Up for Restock Notifications
Description
Please note: Effective immediately, we will not be able to ship full bottles of our EdTs or EdPs into the Southern states until the temperature drops below 90ºF. There is simply no way to prevent the bottles from cracking due to the heat. Any orders destined to go south of the Mason-Dixon line will have any and all EdT and EdP bottles (but not samples) removed and refunded until the temperature returns to a more manageable level. We apologize for any inconvenience.
It started with a conversation.

"I find myself reaching into my shave den and reading the notes for, say, Hallows, Leviathan, or Night Music and going, 'Well that's lovely, but just a bit much for a Tuesday.'"

We gave this some thought. Okay, a LOT of thought. And then we had an idea.

"Perhaps we should make a scent called 'Just Right for a Tuesday.'"

Thus was born the concept for a light, crisp fragrance that's at home anywhere. One perfect for the office, for a luxurious gala, or for anything in between. Partly inspired by the gloriously refined powerhouse violets of the Roaring 20s, Just Right for a Tuesday is plush but surprisingly light. A perfumed glove for the aristocrat in all of us.

Open

Green Fig, Black Pepper, Lavender, Nutmeg

Heart

Violet, Iris, Rose, Allspice

Base

Vetiver, Benzoin, Rose, Ambergris Tincture

Made in the USA. Expected wear time: 6-8 hours.
Packaged in a beautiful printed spray vial and elegant box.
Directions for Use
Spray it on your pulse points, not on your clothes. Let the alcohol evaporate (don't rub it). Smell awesome.
Ingredients
Alcohol Denat., Fragrance, Linalool, Eugenol, d-Limonene, Oakmoss (Evernia Prunastri) Extracts, Citronellol, Benzyl Benzoate, Geraniol, Isoeugenol, Benzyl Alcohol, Citral, Anisyl Alcohol
Customer Reviews
Write a Review
Ask a Question
Filter Reviews:
scent
fragrance
wife
bottle
rotation
&quot
point
B&amp
sample
compliments
12/08/2023
GREGORY

United States
It really is just right for a tuesday. Not overpowering but balanced just right. Floraly and musky it is alao quite unique
12/08/2023
Tom

United States
I purchased this after initially buying a sample. This fragrance is very versatile and can be used throughout the week. Don't believe me? Get a sample first.
12/08/2023
Sean

United States
09/09/2023
Ryne

United States
Not just for Tuesday
This has reluctantly become my every day wear. As the name implies, it goes great on Tuesday, however I've found it's perfect for any day ending in "Y" This one has the quality I love, it is adaptable, sniffing the bottle, the scent is violet and chlorophyll, very floral, very sweet, almost like a violet candy. This is a outright lie. Once this scent settles into you, in mingles with everything, turning into something truly personal. Does your hair product have a light scent, your deodorant, your favorite B&M Bath Soap? It will compliment them all, and twist each one into being a harmony of even temperament , instead of single ringing voices competing for the solo. The only negative point I can give for this fragrance is the price, and even then, it's an EDF, a little goes a VERY long way, this one bottle should last a year if not longer.
08/23/2023
Ger

United States
Fancy
Very potent stuff and what I mean by "potent" is that it projects and it's long lasting. The scent is unique and seems like it would be suit semi-formal and formal events. You won't find anyone else smelling like this in your area. I've gotten hoards of compliments on this cologne too. It suits all ages. I wouldn't say it suits teenagers, but a very unique teen could wear it. This has to be one of my favorite scents in my whole collection.