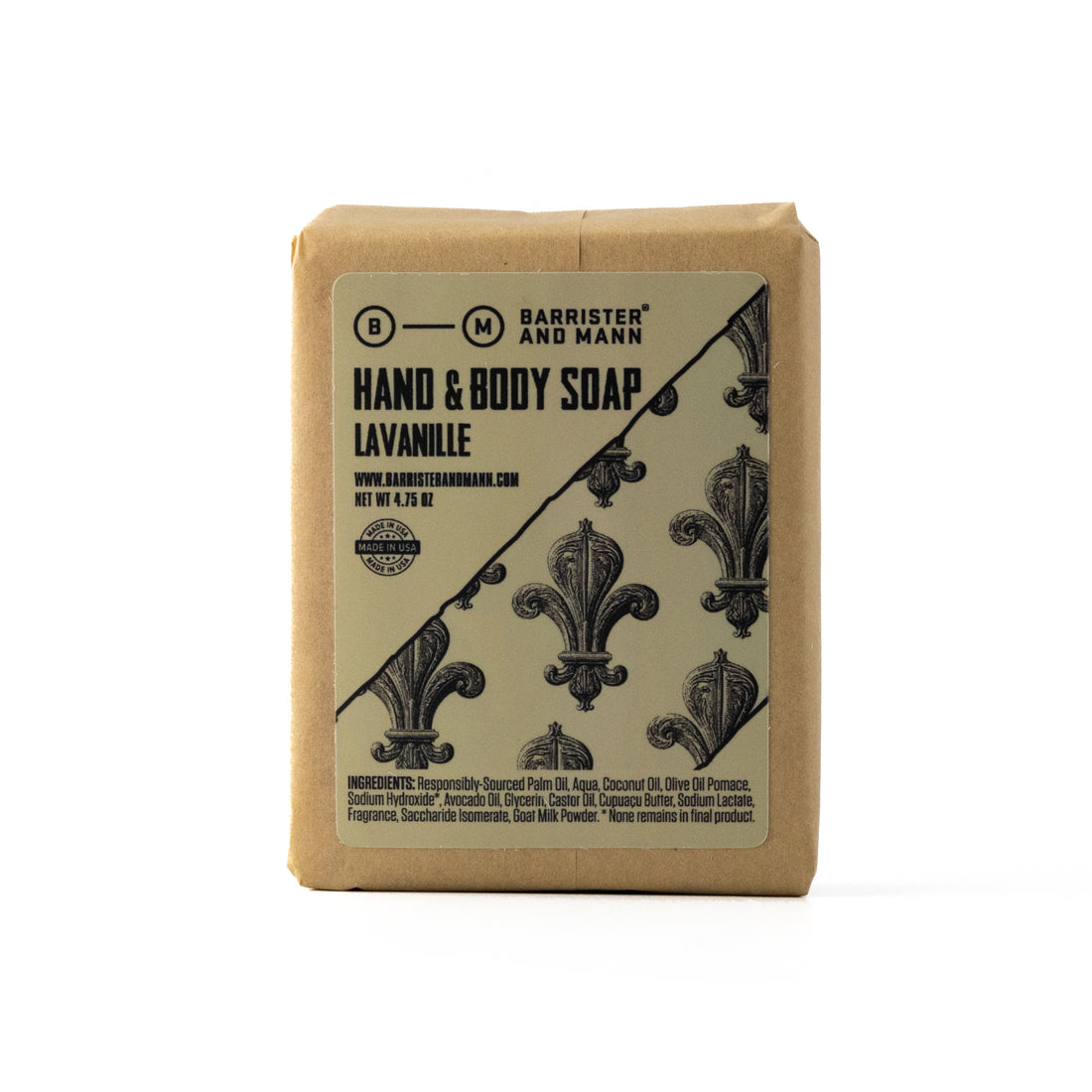 Hand & Body Soap: Lavanille
The Scent
Note: After extensive testing, we have determined that Lavanille does not pose any discoloration risk to linens (such as washclothes and other shower accoutrements). You should be able to use it without difficulty.
Some time ago, Barrister and Mann® had the extraordinary fortune to obtain a sample of the discontinued, leathery perfume base Mousse de Saxe. Armed with only this small sample and historical records of what went into the original, we set out to re-create the famous design by smell alone. After four months of research, formulation, reformulation, and constant refinement, we successfully rebuilt Mousse de Saxe into its original glory. It seemed only fitting that such an achievement should be used to create a soap inspired by some of the greatest masculine fragrances of all time.
We blend our version of Mousse de Saxe with lavender, vanilla, cedar, and the elegant musk Exaltolide to create a dark, leathery, elegant soap unlike anything seen for nearly a half century.
The Soap
Sometimes there's nothing so comforting as good old-fashioned bar soap. Tyler Durden called it "the yardstick of civilization," and it has long been in the running for the most important medical development of all time. It's safe to say that we would not have made it nearly as far as a species were it not for the invention of soap in Sumeria thousands of years ago.

While we believe in simplicity, we know that many people do not care for soap made from animal fats. Thus, we're thrilled to debut our brand new vegetable bar soap, made with responsibly-sourced, certified-origin palm oil, pomace olive oil and avocado oil, moisturizing cupuaçu butter, and goat milk powder for a nourishing, moisturizing soap ideal for any time of year, but especially for the cooler, drier months.

Net Wt. 4.75 oz, Made in USA
Ingredients
Responsibly-Sourced Palm Oil, Aqua, Coconut Oil, Olive Oil Pomace, Sodium Hydroxide*, Avocado Oil, Glycerin, Castor Oil, Cupuaçu Butter, Sodium Lactate, Fragrance (Unless Unscented), Saccharide Isomerate, Goat Milk Powder

*None remains in final product
Customer Reviews
Write a Review
Ask a Question
Filter Reviews:
scent
Lavanille
soap
mine
shave soap
notch product
attention
impression
description
order
12/08/2023
Peter

United States
Love barrister and Mann and all their scents but this one is not for everyone. If you're into wood paneled gentleman's clubs this might be your thing.

JG
01/22/2023
Jeffrey G.

United States
Great Soap, Great Scent
The soap performs beautifully, and Lavanille is fantastic. It's a unique, complex scent. It is neither passive nor ignorable, it demands your attention. For an untrained nose like mine, it may require some acclimation. My immediate out-of-the-box impression was pretty negative, but over the next few days I started to warm to it, and it has since become one of my absolute favorite scents. I look forward to smelling this bar of soap so much that not being able to smell it one morning was how I realized I had caught covid. Top notch product.
08/16/2022
Paul M.

United States
Try it you'll like it!
Lathers up amazingly well. Gets you clean without drying out your skin. The smell is fantastic! This is a great way to start your day!
06/19/2022
Aaron H.

United States
Super rich, luxurious hand soaps!
Barrister and Mann makes some of the most luxurious hand soaps I've ever used. The scent of the LaVanille, just like the shave soap, is mysterious, intense, and very complex. It opens up beautifully in the lather. Their description of the scent is spot on, but what I love most about it is how it evolves, ever so wonderfully, from the dry product when you add water and make a lather. You'll definitely want to have a bar of this!
05/28/2022
Kevin M.

United States
Rinses clean!
Glad to see lavanille in a soap! This soap always leave me feeling clean!