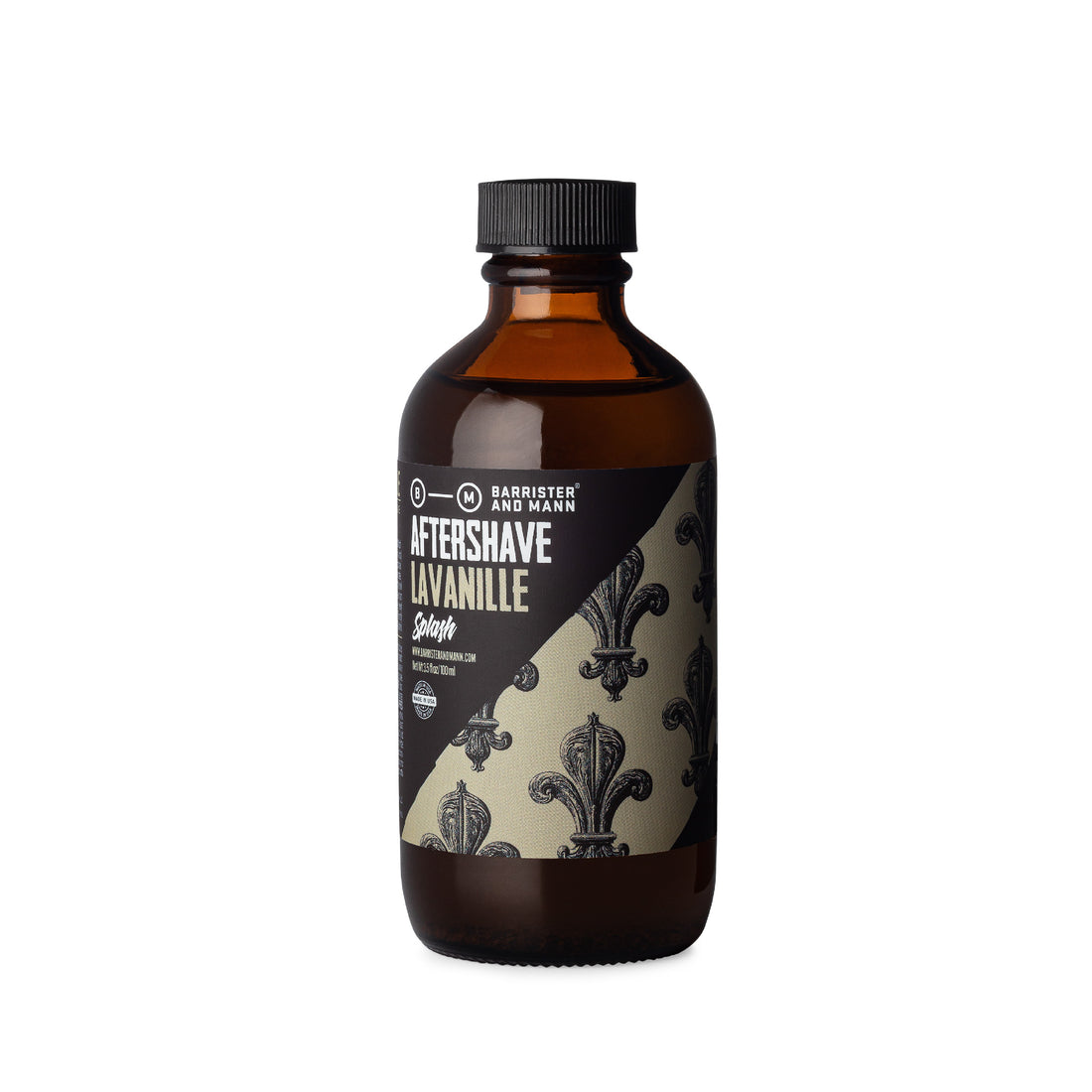 Lavanille Aftershave Splash
Description
Some time ago, Barrister and Mann® had the extraordinary fortune to obtain a sample of the discontinued, leathery perfume base Mousse de Saxe. Armed with only this small sample and historical records of what went into the original, we set out to re-create the famous design by smell alone. After four months of research, formulation, reformulation, and constant refinement, we successfully rebuilt Mousse de Saxe into its original glory. It seemed only fitting that such an achievement should be used to create a soap inspired by some of the greatest masculine fragrances of all time.
We blend our version of Mousse de Saxe with lavender, vanilla, cedar, and the elegant musk Exaltolide to create the perfect pairing for our Lavanille shaving soap.
Net wt. 3.5 fl oz, Made in the USA
Directions for Use
Shake aftershave into your palm (we recommend an amount about the side of a quarter) and rub them together for 3 seconds. Rub your palms over your freshly shaven skin. There may be a mild sting upon initial application, but your face is about to look, feel, and smell awesome. We know you can handle it.
Ingredients
SD Alcohol 40-B (Alcohol Denatured), Witch Hazel Water (Hamamelis Virginiana), Water (Aqua), Glycerin, Taurine, Chlorella Vulgaris/Lupinus Albus Protein Ferment, Eleuthero Root Extract (Eleutherococcus Senticosus), Allantoin, Aloe Leaf Extract (Aloe Barbadensis), German Chamomile Flower Extract (Matricaria Recutita), Licorice Root Extract (Glycyrrhiza Glabra), Acetylsalicylic Acid, Sodium Lactate, Provitamin B5 (DL-Panthenol), Citric Acid, Benzoic Acid, Fragrance, Lavandula Angustifolia (Lavender) Oil, Juniperus Virginia (Virginia Cedar) Oil

Customer Reviews
Write a Review
Ask a Question
Filter Reviews:
scent
Lavanille
cologne
aftershave
Smells
collection
reason
shave soap
performance
favorite
Perfect match for the soap - Amazing warm masculine scent
Lavanille is my favorite scent of all time. I like to wear it in cooler months, but I could easily use it every single day. I have used two bottles, and I'm working on my third. This is an example of the unique kind of scents for which B-M is deservedly famous.
Everything I hoped it would be...
Lavanille has been one of my favorite soaps for a while. Incredible scent. I got the aftershave to complement it and I wasn't disappointed.
One of the best scents available
This is a masterpiece. I love the mixture of lavender, vanilla, and the amazing mousse de saxe. It is my favorite scent.
Lavanille Aftershave Splash.
Not knowing what to expect I must say I was delighted by the fragrance of Lavanille. Pleasing, not overbearing and unusual scent has thumbs up from my wife and she is very particular to fragrance.
Excellent scent and staying power
The Lavanille Aftershave Splash was unexpected, but in all the right ways. Some have commented that it follows the B&M's "dark" pattern, with scents such as Leviathan and Night Music. Personally, I feel it's much easier to pair with a wider variety of soaps due to the vanilla and lavender balancing with the musk. It's a wonderful combination and I would recommend it to anyone considering a purchase.