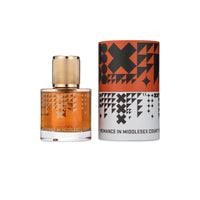 Romance in Middlesex County Eau de Parfum
Thanks for signing up for restock notifications!
There was an error signing up for restock notifications. Please try again.
Sign Up for Restock Notifications
Description
An understated, elegant floral characterized by a fresh, juicy tangerine opening, underlaid with coffee and apricot. The scent softens into something strongly reminiscent of apricot skin, and contains a huge combined dose (4.4%) of Egyptian jasmine absolute and the Indian jasmine distillate motia mukhallat. Romance in Middlesex County was composed as a birthday gift, but was so well-received that we've decided to release it to the general public.
"Love unconditionally. And may this perfume be with you during the happiest times of your life." -Will Carius | Barrister and Mann
Open
Apricot, Tangerine, Ho Wood, Cardamom
Heart
Coffee, Lily of the Valley, Fresh Laundry
Base
Jasmine, Tobacco, Musk, Oakmoss, Sandalwood
Made in the USA. Expected wear time: 8-10 hours.
Packaged in a beautiful printed spray vial and elegant box.
Directions for Use
Spray it on your pulse points, not on your clothes. Let the alcohol evaporate (don't rub it). Smell awesome. Love passionately.
Ingredients
Alcohol denat., Fragrance, d-Limonene, Linalool, Butylphenyl methylpropional, Evernia Pruastri (Oakmoss) Extracts, Benzyl benzoate, Hexyl cinnamaldehyde, Benzyl alcohol, Citral, Eugenol, Geraniol, Hydroxy-citronellal, Farnesol, Benzyl salicylate, 3-Methyl-4-(2,6,6-tri-methyl-2-cyclohexen-1-yl)-3-buten-2-one, Isoeugenol, Citronellol
Customer Reviews
Write a Review
Ask a Question
Filter Reviews:
fragrance
wife
scent
bottle
sample
aroma
opening
perfumes
jasmine
rotation
Brilliant fragrance
I can honestly say that I've never smelled anything from B&M I didn't like, but there are some fragrances I feel like deserve special praise, and this is one. The tangerine/ apricot opening is done in such a way that I don't feel like I can draw an accurate comparison to another frag. The tangerine is smooth and polished, while the apricot adds just a hint of tartness. The Slumberhouse Pear & Olive opening is very similar in that it has this almost creamy quality. I've noticed that I find similarities between Josh and Will's work regularly, and I mean this as a compliment to both because they both produce fragrances I am excited about. However Will's technique yields a much more approachable result in many cases, whereas Josh is unapologetically artistic and can sometimes be "too much" for those not looking for a very niche frag. The florals are not far behind in the opening, layering seamlessly but detectably with the tangerine and apricot. I get slightly more lily of the valley early on. The fresh laundry note is detectable after a while and I suspect it is a result of other notes blending although I can't pick them out individually. Towards the end of the life of the fragrance (which is a good while), I can detect some of the woody-ness and oakmoss, and for me its almost as if there is a very slight barbershop vibe living beneath the rest of it, but it is very slight. All in all, I could go on for a while about this one, but I think it deserves the praise. I will say that it leans feminine but IDGAF and I wear what I want. I can see it layering well if you wanted to, but it is gorgeous on its own so I'll probably let it stand on it's own most of the time.
Very nice and unique scent
Very nice and unique scent
Wow!
This stuff smells amazing. It stuck with me all day.
Love the smell
It just keeps evolving and smelling better. If really reflects the talent behind the creator.